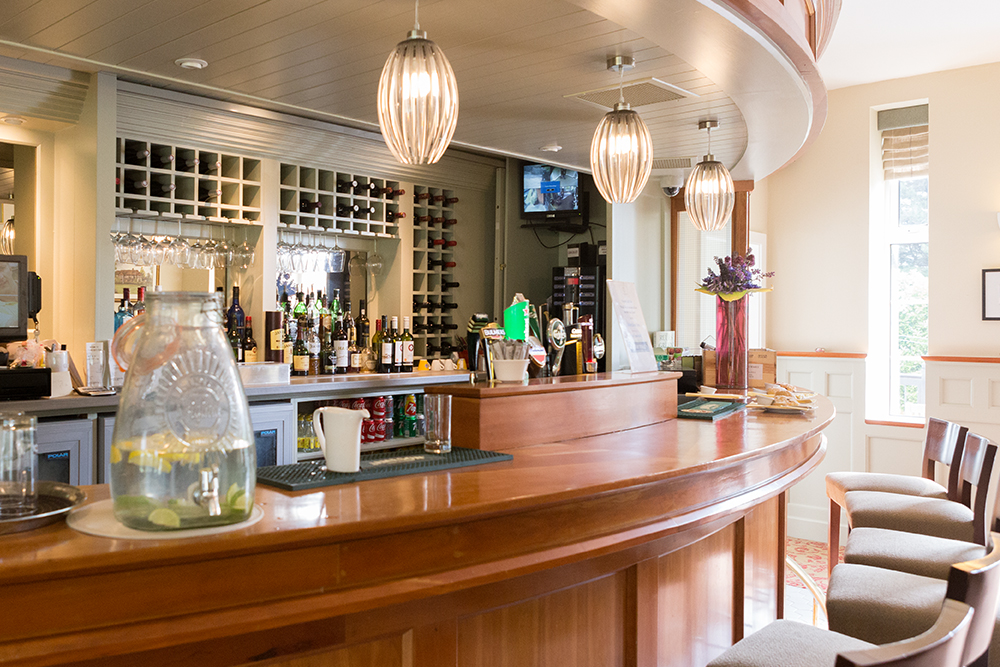 I think the members would agree that the original entrance foyer was not an overly welcoming or impressive 'front' to the club. It was darkly painted, poorly lit and in need of a new look. With a close eye on budget,  we managed to brighten up the spaces and provide a more contemporary look whilst still retaining the traditional feel that the members were fond of.
The Entrance Foyer-  before and now.. We found some neglected armchairs in the attic store and had them reupholstered 
The Bar before with its dated carpets and dark, mismatched colour scheme
The Bar now with fresh new colour palette, bespoke shelving, new lighting and best scones in Dublin!
We managed to control the budget by reupholstering much of the existing furniture
New glass tops are easier to clean and minimise the amount of dark and different types of timber that were originally there
New panelling in the Gallery, a once disused space, is now in great demand by members
Some members had to be convinced that painting over timber is not a crime!
But the number of people who now use the brighter Gallery is the proof
The Dining Room before
and the Dining Room now which is more like a restaurant than a dining hall. The new acoustic panelled ceiling reduces the reflected sound on busy and noisy club nights
"Claire first started working with Foxrock Golf Club to advise on a major refurbishment of the Clubhouse in December 2013. 
Claire immediately understood our wish to modernise and upgrade the Clubhouse yet retain the feeling of a welcoming and comfortable space for Members and guests to enjoy. 
Throughout the process, from specification to competitive tender to completion on site in June 2014, Claire worked extremely well with us. Claire is responsive, organised and a highly professional adviser. 
It was a pleasure to work with Claire. The result is all we hoped for, and was delivered on budget and on time" 
Rachel Widdis Cambay
Foxrock Golf Club President 2015